The story associated with my the finding of this special piece of military history tugs on something much deeper for me. Martin Teahan, a legend to me and my family was my uncle, we knew him as "Uncle Matty." A poor Irish Immigrant, stories of his bravery resonated with me as I grew up in the same rough neighborhood in the Irish South Bronx as Uncle Matty.
On March 12, 2016, five days prior to learning about my uncle's historical D-Day rifle, my brother Jackie and I visited Saint Jerome's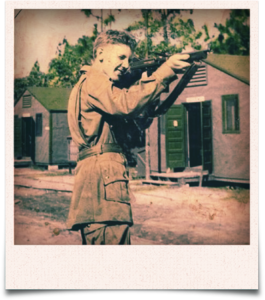 , in the South Bronx, for the first time since childhood. As we stood in the Church that day we both realized we never noticed a plaque with our Uncle Matty's name on it. The plaque honored the parishioners who were killed in action in World War II. Uncle Matty was one of 65 names of World War II heroes who paid the ultimate sacrifice. Jackie and I marveled over the plaque and wondered how we never noticed it as kids. It was a spiritual moment for us, little did we know how dramatically it would impact our lives.
By fate, on March 17, 2016 (Saint Patrick's Day – Luck of the Irish) my sister Liz and I received an email from General Patrick Collet. He had acquired an M1 Garand rifle with names engraved on both sides of the rifle. Once he saw the named M. Teahan engraved on the rifle, he knew he had something special and was determined to find who M. Teahan was.
For decades my sister Liz was a member of the Friends and Family of the 508th PIR Association, she was devoted to honoring Uncle Matty and set up a profile page on the 508th PIR website, listing her as the contact. Amazingly, this simple process would result in the life-altering discovery by General Collet. You see, General Collet would search the 508th PIR website for an M. Teahan. He found the match and notified Liz and me. We knew the moment we found out, the rifle was our Uncle Matty coming home after 72 years. How we both instantly knew this, I don't know, but the realization it had changed our lives was instantly evident to Liz and me.